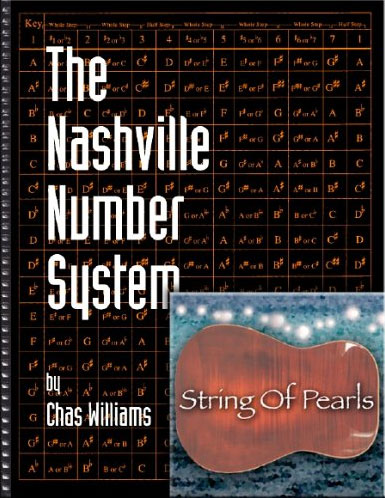 In the late 50's, Neil Matthews devised a musical number system for the Jordanaires to use in the studio. Charlie McCoy and fellow studio musicians began adapting Matthews' number system into chord charts. The Nashville Number System has evolved into a complete method of writing chord charts and melodies—combining Nashville shorthand with formal notation standards.
The Nashville Number System is 128 pages with a step by step method of how to write a Nashville number chart for any song. Included with each NNS book in Edition 10 is the cd download, "String Of Pearls". This is a 10 song cd of instrumentals, including, Amazing Grace. I walk you through the details of each song and explain the Number System tools used to write the charts. Now, while listening to the music, you can see and hear how Nashville number charts work.
THE NASHVILLE NUMBER SYSTEM includes a collection of handwritten number charts for the songs on the album, String Of Pearls. Each song is charted by hand from the cd by:
Charlie McCoy (Hee-Haw) David Briggs (Session Keyboardist/Arranger) Eddie Bayers (Session drummer) Jimmy Capps (Studio guitarist, Grand Ole Opry Staff Band) Brent Rowan (Studio guitarist/Producer) Lura Foster (Charts for TV shows: Nashville Now, Music City Tonight, Primetime Country) John Hobbs (Session Keyboardist) Mike Chapman (Session Bassist) Biff Watson (Session Guitarist) Chris Farren (Producer/Guitarist) Tony Harrell (Session Keyboardist/Studio Owner)
Each of these musicians wrote 5 number charts in his or her style from the String Of Pearls cd.
For example, the song, String Of Pearls, has charts written by: Charlie McCoy, Brent Rowan, John Hobbs, Jimmy Capps and Biff Watson.
The song, Waylon, has charts written by Tony Harrell, Lura Foster, Chris Farren, Biff Watson and Eddie Bayers.
The idea is that you ll be able to compare, side by side, some of the different styles of notation and symbols you can use to chart the same piece of music. So, as you listen to a song on the cd, you can flip between different charts written of the same song.
These different charts represent the kinds of numbering techniques that you are liable to run into in almost all of the major recording and television studios, clubs, showcases, rehearsal halls, and other situations where music is performed in Nashville.